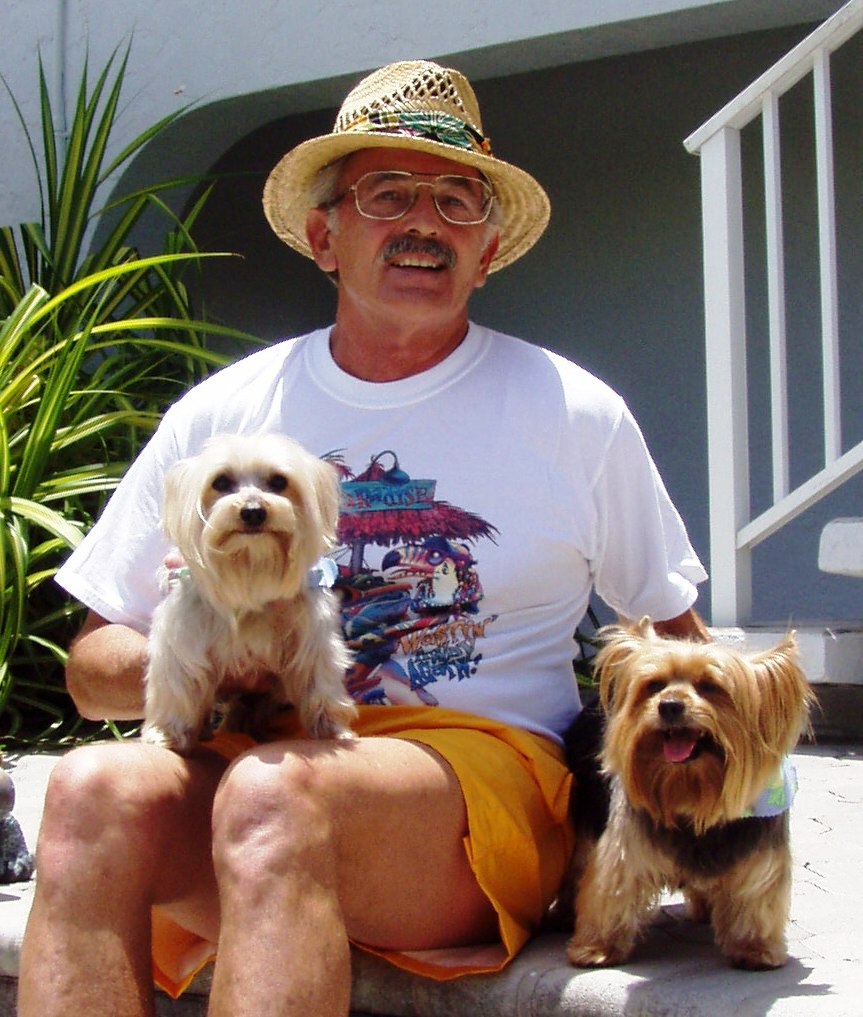 "What a great experience! This is the second sale I've had with Waterfront Specialists and as before, every detail was handled with care and professionalism. If you own a waterfront home, you'll want the skills of the Waterfront Specialists negotiating your sale!"
P.S. They are also "pet lovers!"


Noel Luttrell with TC & Rambo


"Diane listed and Fred sold the home we owned in Marathon for 10 years in ONE day for top dollar and with the smoothest settlement we have ever experienced. "
Thanks, Diane and Fred!

Mike & Sharon Pettit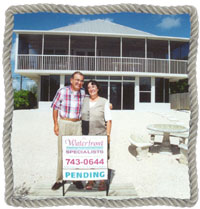 "Diane Chaplin-Colvard & Waterfront Specialists, Inc SOLD our 3 waterfront properties: One sold in 3 hours, another in 3 weeks and the last one in 3 days! (An average of 8 days on the market.) Thank you for your excellent service!"



Ron & Ruth Janis
WHAT OTHERS HAVE TO SAY ABOUT THE WATERFRONT SPECIALISTS...
Would you recommend our services to others?
"We will definitely recommend Waterfront Specialists to anyone looking for first class realty service in the Florida Keys! Why? We want others to have the same wonderful home buying experience that we did!"
George and Luci Dulanski
"We heard about Waterfront Specialists Inc. through some friends of ours. The service Waterfront Specialists Inc. provided was very professional. We were kept informed during the entire transaction and everything went smooth. We would recommend their services to anyone."
Judy and Alan Fletcher
"Definitely - You are very personable, available and easy to reach."
The Green Family
"Absolutely! We already have!"
The Gomez Family
"I already do!"
Vinny Bochario
"Yes, your knowledge, thoroughness and integrity."
David Hahn

How was the service we provided?
"We especially appreciate how you communicated with us on a daily basis. Whether it was a phone call, an email or a fax, you kept us informed from start to finish to make this transaction as stress free as possible. Both Fred and Diane have shown that you are a family that not only cares about making the sale, but one that truly cares about the people involved."
George & Luci Dulanski
"Terrific! What an amazing family team of professionals!"
The Green Family
"Fred gave no "high pressure" sales..."
John & Laura Morgenstern
"You were professional, caring, and always made us feel like
we were your number one priority."
Diane & David - Blue Bayou
"The service you provided was excellent! I've never gone with a Real Estate Broker - always sold on my own. You've done a great job in a tough market. You kept me very well informed, especially with the continued correspondence on how the market was looking. I would surely recommend your service to others!"
W.Q.
"Excellent - your personal involvement was critical to our success."
David Hahn
"I was kept very well informed and the service you provided was Excellent".
Thomas W. Styer

What part of the transaction was the smoothest?
The roughest?
"The entire transaction was very smooth!
Thanks so much for your excellent service!"
Doug Sheeran
"The smoothest part was working with Waterfront Specialists from start to finish. Your attention to every detail of the contract negotiations, the inspection process, the follow up with our mortgage process, all contributed to the end result....a successful transaction!"
George & Luci Dulanski
"Fred kept us well informed with frequent updates...."
John & Laura Morgenstern
"Finding the perfect house and closing long distance. But not bad at all!"
The Green Family
"It was all smooth! The caravan was a great idea, instilling further confidence."
Diane & David - Blue Bayou

"Entire transaction was smooth and professionally handled. You were always available to answer questions even while traveling!! Many Thanks!!!"
Roger Garchinsky
"Clearly the price negotiation was rough. But it was accomplished
smoothly and to my satisfaction."
Gary Weiss

Would you recommend our services to others?
Why?
"Yes! You were professional and very successful"
Suzanne McKnight
"We would recommend your services to others because your service was 100%. You made our purchase easy and worry free."
Gene & Barb Batson
"We would recommend Fred because of his excellent knowledge of the real estate market and his association with a strong agency"
John & Laura Morgenstern
"Absolutely!! In fact, we've already been doing that to so many people"
Diane & David - Blue Bayou

"Diane and Fred, I have known many professionals throughout my career and worked with many levels of people and personalities during this time. You two simply stand heads above, both personally and professionally. I continue to be very pleased that we got to know each other."
Dr. P. Kelly
"Excellent service, you always kept us informed and worked hard for us to sell the property. We felt you had a lot of integrity. You kept on top of the sale and followed up. We would recommend your services to others because we believe you have a high level of energy and you devote that to satisfying your customers on both sides of the deal with honesty."
Bud & Lola Reiss
"Diane, the service you provided was excellent. Communication
was very good, as was follow up when required.
Thanks, it has been a pleasure dealing with you!"
Dietmar & Patricia Reichenbacher
"I would most definitely recommend your services to others. I honestly feel that you "watched out" for my property better than I would have - in terms of repairs, etc. I really appreciated your efforts to arrange for local contractors."
Nancy Kerrigan
"I would recommend you above all other REALTORS in the area. It's a pleasure to see you in action. To us, you are THE specialist, waterfront or otherwise!"
Lisa Gordon
"After living in Marathon for 20 years we had definitely heard of you and our Son-in-law who is in Real Estate wanted you above all others. We were kept very well informed. There were no surprises and the house sold in about one month!!!"
Dave & Cathy Matthews
"I would recommend your services to others because you are hardworking, professional, have good communication, good advertising, you are straight forward and you "tell it like it is" - what else could you want? If we had met Diane years ago, it would have saved us time and money. If I buy or sell real estate in the Keys in the future - it will be with Diane Chaplin!"
George & Margie Sheppard
"Every step of the way we were dealt with promptly, courteously and professionally."
Mr. & Mrs. Churyk
"We were surprised and delighted with the way we were kept informed. Diane called after each showing informing us to each persons thoughts and desires. This was the first time any real estate broker has ever took the time to stay in touch! We have already recommended your services to others."
Judy DeVries
"Your service was very professional and good. It was great hearing from you every week, through your letters and phone calls. I had heard this from your other clients and customers, that you were especially good at keeping in touch. Both the listing procedure and the closing went smoothly. We enjoyed working with you and will recommend your services to others because we feel that you are fair, up-front and very well educated and qualified in you field."
Mr. & Mrs. Thomas Jacka
Additional Comments

"Thank you again for all of your efforts throughout this journey. You truly are a "Specialist" in the waterfront real estate business."
Jim Lorentsen
"With all the doom & gloom about real estate from nearly every source, it is great (and not surprising) to hear your positive voice and to know that you are looking at all the options for your clients!"
Ann Knowles
"We saw your 1/2 page ad in the CRS directory! Your servicing of this sale was excellent. We plan on sending you more referrals in the future.
(Side note: Waterfront commercial property in Coco Plum sold for full price, in 19 days. Fred sold it, Diane listed it.)"
Stephanie Warren - Hilton Head REALTOR
"Thank for you for treating us like family!"
The Gomez Family
"We had looked at homes a couple of years before with another realtor and that company didn't treat us like we deserved to be treated. Our experience with you was extraordinary! Thank You!"
The Green Family

"Diane and Fred, When you came together to our home briefly, we felt blessed. You both shine completely, We love you. Everyone on your team made us feel cared for, answering all our quirky questions without judgment."
Diane & David - Blue Bayou
"Fred provided excellent service, kept us very well informed and made everything EASY. I would recommend him because he was very helpful and sincere."
Val & Jane Laetari